Sex guru Mas Sajady is what can be called an incubus.  Incubi have been recognized across many cultures for millennia.  Incubi are sexual demons that launch sexual assaults via the spiritual dimensions.
Women have reported being approached by incubus Sajady.  This has included being telepathically love frauded and feeling spiritually raped by him.  Sajady routinely gropes women in a sexual fashion in person, and has even hooked into their sexual energy while doing so.
By preying upon women as an incubus, Sajady seeks not only to satisfy his own perversions, but also to steal women's sexual energy.  If Mas Sajady can gain sexual access to women — whether physically or through fantasy or in their dreams — that is energy that he can harvest ("tap") and use reinforce his perverted fraud, pay off his demons, and build the demonic system behind him.
By far, the most precious theft Sajady and his employee Fei Zhou make is their customers sexual energy.  These energies of love, euphoria, orgasm — are all sought after by demonic entities that use the energies to feed themselves. When sexual or love energies are created, they emanate outwards, where they can be stolen by demonic entities.  These demonic entities are hungry, because they do not go to God for what they need.  Instead they steal from others.  Any time you have sex — demonic entities are right there wanting to cord your system and siphon off your energy. (Information on Spiritual Protection here.)
Fei Zhou is Sajady's handler, and promotes his demonic predation.  (Sajady also preys upon women in person:  He has had numerous alleged afffairs, Fei Zhou being one alleged mistress.  He even appears to have love frauded Zhou, leading her on that he would marry her when he got divorced, which he never did.)
Using Women as Batteries

Sajady has an elaborate system set up to ensnare women sexually.  Once a woman is sexually ensnared by Sajady's system, she can be used as a battery (at best) or an energetic sexual slave (at worst) to fuel more power for his demonic system.  Mas Sajady is believed to call these women "slave b*****s." The term was used by Sajady's employee Kaille Padgett, and is believed to originate with Sajady himself.  Mas Sajady is a misogynist — he has told women they are evil. This is all part of his programming to get women to submit to his demonic system.
OUTLINE: HOW MAS SAJADY & FEI ZHOU'S SPIRITUAL SEXUAL PREDATION WORKS
Here are the key points of how Sajady's demonic sexual predation works:
COVERT HYPNOSIS
GROPING WOMEN SEXUALLY

HOOKING INTO WOMEN'S SEXUAL ENERGY

MORE PHOTOS OF SAJADY GROPING WOMEN SEXUALLY:  EROGENOUS ZONES
PHOTOS OF SAJADY GROPING CHILDREN
PHOTOS OF SAJADY GROPING HIS OWN DAUGHTERS
Related Pages:
One of the first elements to Sajady and Zhou's demonic sexual predation is sexualized focus.  Sexual subjects are focused on as a means to gain sexual access:  To lure women into letting down their guard, and to precondition them to accept sexual engagement with Sajady and/or his demonic system.   In a meditative state, Sajady hones in on women's erogenous zones.  Sajady is held out as a sex and relationship expert, as though he can be trusted.
Sajady is sold as a sex object, despite being old and short:  Handler Fei Zhou has him work out and regularly does photo shoots geared to market him to women.
Sajady's business model also includes seducing traumatized women:  He holds himself out as a suicide and mental health expert, as a sexual trauma and abuse expert.  Below is an online session he posted called "Free PTSD – Sexual Trauma Session."
Read More Here:  Gaining Sexual Access:  Sajady Sex Cult Preys upon Women
Another element to Sajady and Zhou's demonic sexual predation is the use of covert hypnosis.  Sajady is clearly using hypnosis:  Sajady has demonstrated the he knows how hypnosis can be used to manipulate; he has said that what he does is stronger than hypnosis and NLP; he has said that he he uses hypnosis to override people's will.   Sajady instructs people to play his recordings constantly on a loop.
Sajady also uses the classic markers of hypnosis:
Guided visualization
Counting backwards
Accessing the subconscious,
Control/programming phrases & affirmations
Establishing trust to surrender will.

Additionally, the demonic system behind Sajajdy generates hypnotic frequencies and supplies the demonic entities to prey upon people.
Placing his customers in a hypnotic state makes them supremely vulnerable to his demonic sexual predation, where he can more easily implant messages of assault.
Says former customer Tanster, who was also a photographer for him:
"I didn't realize it at the time but he uses covert hypnosis to control minds. Before I knew it I felt compelled to spend around $300 to see him at a talk in another state…  At the talk he was seductive with me, whispering in my ear that he could help me. When I walked away he looked at me with longing as if he had just fallen in love. I felt compelled because of the covert hypnosis to keep listening. He always told the audience to listen to him constantly on a loop, which I did. This is how he brainwashed me.Through his hypnosis I came to believe he was in love with me and that I was in love with him. This happens to a lot of women. This is apparently how he makes so much money even though he delivers nearly nothing except calamity."
I was looking for help and I found Mas Sajady on youtube. I didn't realize it at the time but he uses covert hypnosis to…

Posted by Tanster on Friday, January 20, 2017
3. GROPING WOMEN SEXUALLY

A key element to Sajady's demonic sexual predation involves groping women in an intimate or sexual fashion.
Touching Near Erogenous Zones

Sajady routinely touches women close enough to their erogenous zones to cross their boundaries (often near the public bone, breasts, hips, top of the butt).  Sajady attempts to make it look innocuous; but meanwhile his goal is to cord the woman sexually and more.
The Seductive Come-On
Sajady has been known to speak seductively with female customers, put his arm around them, rub them suggestively, use seductive gazes, stare into their eyes as though he were in love with them.  Most clients believe Sajady's actions are intentional, done to hook them sexually. Tanster describes Sajady's love fraud:
"He rubbed down on my lower back for around three minutes. He looked at me like he was in love with me as I walked away….  Now that it's over I believe he used covert hypnosis and seductive techniques along with black magic to manipulate me out of my money."
Tanster was ensnared by Sajady's telepathic love fraud, believing Sajady to be his twin flame. By going into his system and coming out and talking about it — her experience has served to help systembust his dark system.
I had done some remote healing on Tanster, and clairvoyantly saw the sexual energy hooks Sajady had in Tanster.  Sajady had implanted her with sexual control devices, to access her sexuality, so he could tap the upper dimensions through her sexuality. This is not real sexuality — it is a fake, manufactured version, intended to take advantage of someone. Mas Sajady taps many women's souls sexually and uses them, whether they are conscious of it or not. He is attempting to set up a sex slave society.
Read more about Tanster's experience here.
4. HOOKING INTO WOMEN'S SEXUAL ENERGY
Another way Sajady demonically sexually preys upon women is by hooking into their sexual energy when groping them, attempting to arouse them. Experienced healers know that you can arouse someone's sexual energy without even touching them.  So it is possible to touch a woman anywhere on her body and attempt to create sexual arousal.  Here is one woman who says that Sajady hooked into her sexual energy while touching her:
"I was groped by Mas in the past and can attest that he hooked into  my sexual energy."
If Sajady is sexually touching adults — what is to stop him from doing the same to children? In fact he has groped children in a sexual fashion, and there was nothing to stop him from hooking into their sexual energy as well. That is why the public needs to be warned about him.
In addition to hooking into women's sexual energy in person, Sajady also remotely tries to sexually prey upon women.  Many telepathic women have reported that Sajady tried to have spiritual sex with them, and telepathically conveyed that he was in love with them and wanted to marry them.  Numerous women have also reported that Sajady has appeared in their dreams and behaved sexually towards them, and that they have orgasmed while awake or in a dream state.
Read More Here:  Women's Experiences of Telepathic Love Fraud with Mas Sajady

And the most evil of all of his ways to prey upon women, Sajady allegedly spiritually rapes women.  It appears that when women don't allow themselves to be hooked into Sajady's sexual system, Sajady and his demonic entities attempt to spiritually rape them.  Many women have come forward saying they feel spiritually raped and violated by sex guru Sajady.
Read more here:  Spiritual Rape Allegations of Mas Sajady:  Spiritual Sexual Assault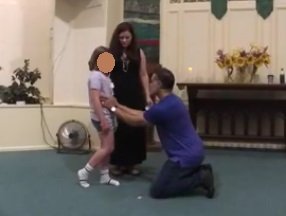 7. MORE PHOTOS OF SAJADY GROPING WOMEN SEXUALLY
Here are many photos of Sajady groping women.
Pubic Area Gropes
This first photo shows an oft repeated tactic:  Sajady touches this woman very near her public bone, and is holding her in an intimate fashion.
One former client says Sajady touched her between the breasts, and saw Sajady put another woman's face into his groin.
Butt Gropes
Breast Gropes
Mas Sajady pretends he's not paying attention, meanwhile he's hooking the woman's energy and soul into his dark system, and often sexually.
Hollywood Wanderlust won't host him anymore.  Here is their email telling us they had already cut ties with him.
But corrupt church president Gary Perisian, at the Lake Harriet Spiritual Community, will host Sajady and Zhou, and even let them prey upon children.
8. PHOTOS OF SAJADY GROPING CHILDREN
This video shows Sajady groping children of all ages in a sexual fashion at the Lake Harriet Spiritual Community, courtesy of corrupt church president Gary Perisian.
All of these photos except the last were taken at the Lake Harriet Spiritual Community.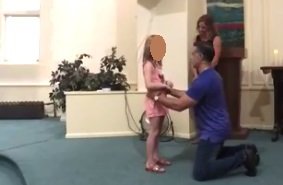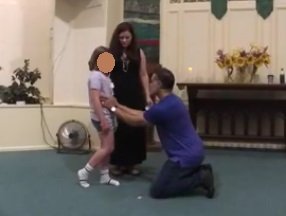 While groping women and children sexually, Sajady routinely extends his pinky to the erogenous zones of women and children.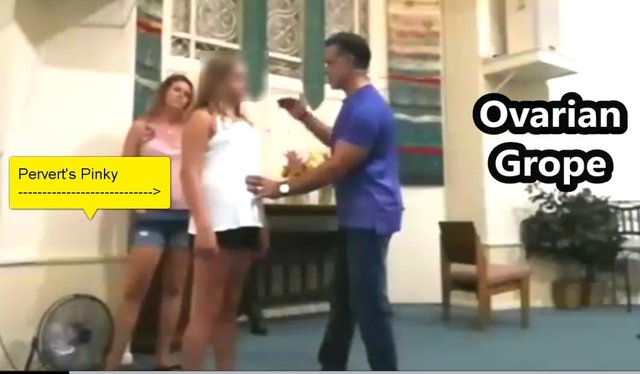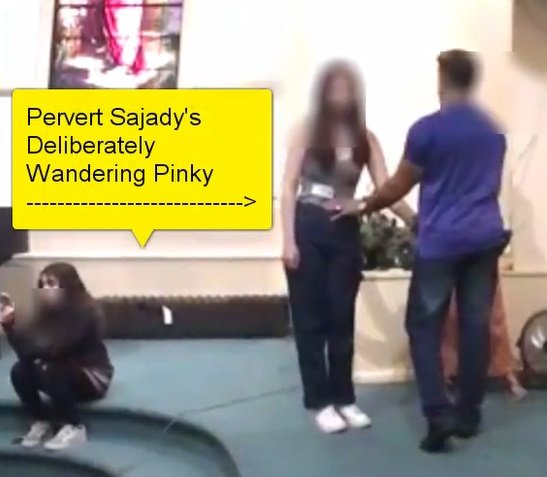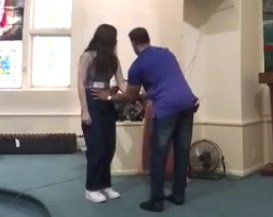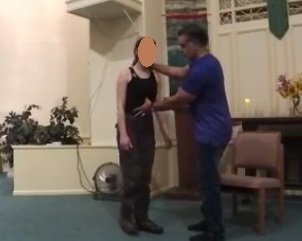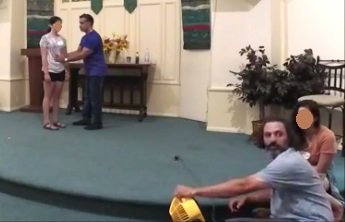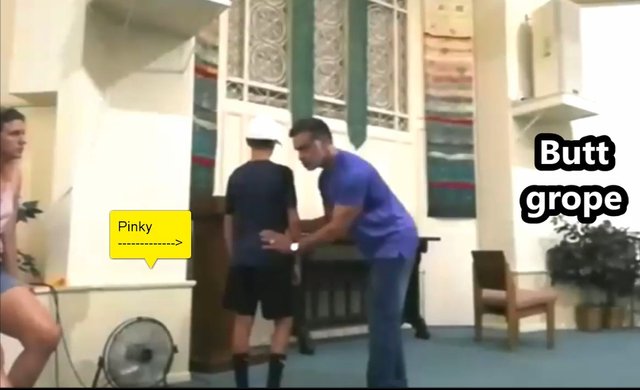 9. PHOTOS OF SAJADY GROPING HIS OWN DAUGHTERS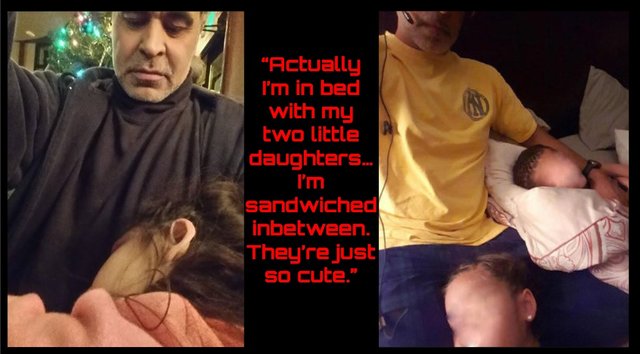 His daughter's hips are turned towards his and she is pressing her body upon his, and has a sultry look in her eyes.  His daughter behaves more like a girlfriend than a daughter.
Related Pages:
Video also posted at: